Learn Without Limits
With EUCA's seasoned professionals leading the way, uncover your unique strengths and passions. Receive tailored guidance to achieve your aspirations and master the essential skills to excel in your chosen cyber domain.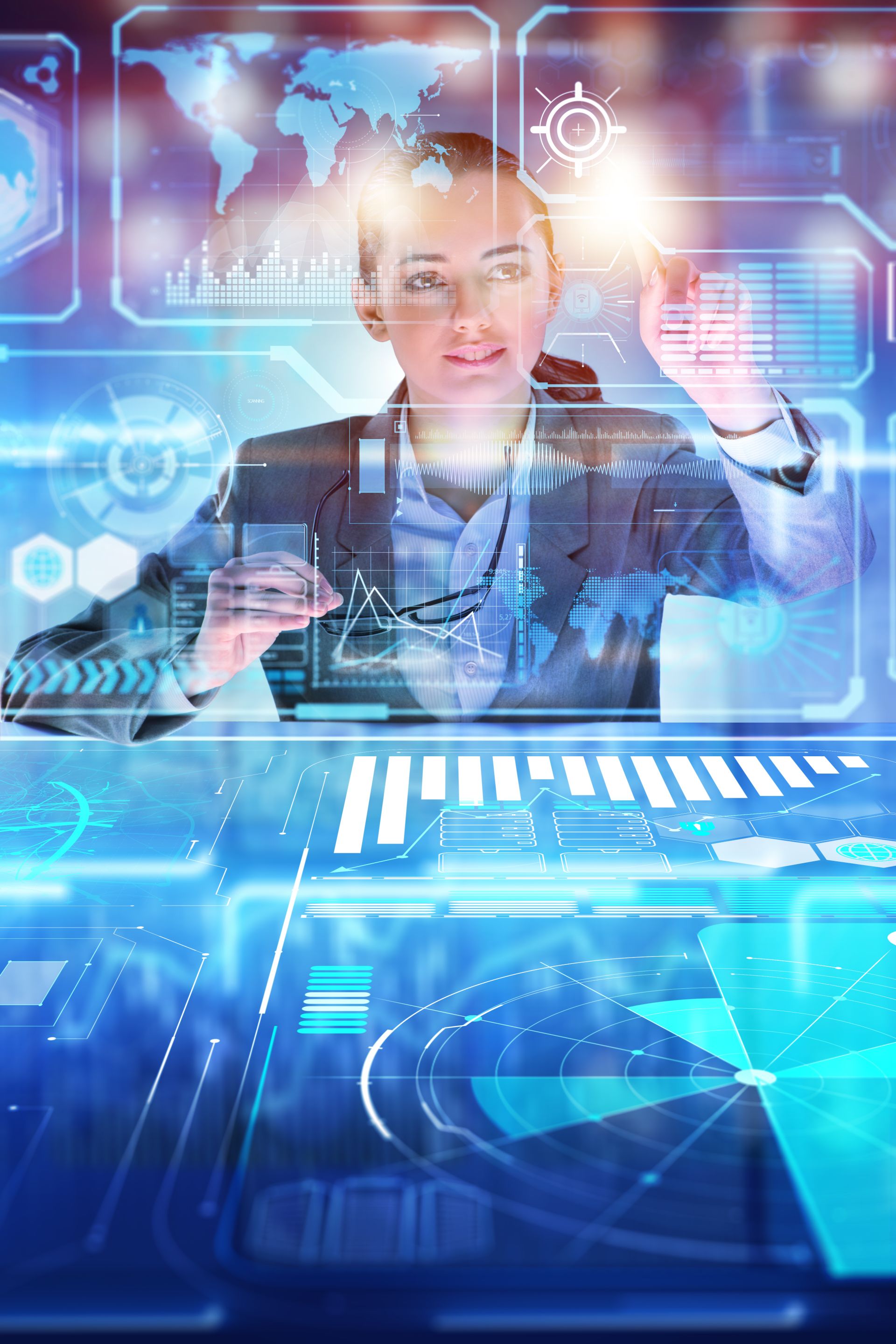 — About OUR EUCA ELITE ACCESS - Subscription models
We help you reach your professional goals
We are a steadfast online education platform, empowering both seasoned professionals and ambitious learners with access to the world's most insightful, authentic, and effective practices.
With a subscription, students have ongoing access, allowing for continuous learning and skill refinement.
Over time, subscribing offers more value than purchasing individual courses, making it a cost-effective choice for comprehensive education.
Subscribers can pivot between different courses as per the changing cyber landscape, ensuring they're always updated with the latest trends.
Regular interactions with industry experts and mentors ensure subscribers stay at the forefront of the cyber security field.
Subscribers can learn at their own pace, revisiting modules as needed, ensuring deep understanding and retention.
Subscription often comes with community access, providing networking opportunities and peer discussions on recent threats and solutions.
In the fast evolving field of cyber security, subscribers get regular content updates, keeping their knowledge current and relevant.
Continuous learning and mentorship through the subscription model can significantly accelerate career growth in cyber security.
— Our SUBSCRIPTION PROGRAM
How EUCA Elite Access Works
Choose Your Plan:
Whether you're a self-paced learner, seeking expert workshops, or wanting one-on-one mentorship, there's a plan tailored for you.
Seamless Signup: Register on our platform, select your desired subscription tier, and gain instant access to a wealth of cyber knowledge.
Dive into Courses: With your subscription, explore a diverse range of courses aligned with the EU Cyber Strategy. Study at your own rhythm, anytime, anywhere.
Engage & Interact: Join our monthly workshops and interactive sessions, and connect with seasoned professionals and fellow learners in the cyber realm.
Continuous Learning: Your learning doesn't stop once a course ends. With continuous updates and new content, you stay at the forefront of the cyber security world.
Personalised Mentorship (if applicable): For those on the Elite Mentor plan, book your monthly "cyber clinic" sessions, and gain insights tailored to your career trajectory.
Easy Renewal or Upgrade: As your needs evolve, seamlessly renew or transition between subscription tiers to match your learning journey.
Experience cyber education like never before with the EUCA Elite Access subscription. Dive in today and elevate your cyber expertise!
Empty space, drag to resize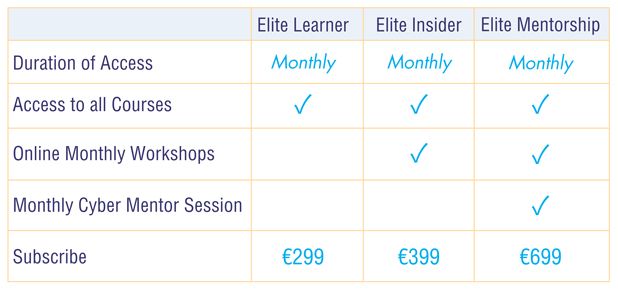 Elite Learner

Dive into the vast world of cyber education with the Elite Learner tier. Gain unlimited monthly access to all EUCA courses, ensuring a comprehensive and self-paced learning journey tailored to your cyber aspirations.
Elite Insider

Beyond comprehensive course access, the Elite Insider offers monthly expert-led online workshops, immersing you in cutting-edge cyber insights. It's a blend of in-depth learning and firsthand industry knowledge, tailored for the truly ambitious.
Elite Mentor
Elevate your cyber journey with the Elite Mentor package. Alongside full course access and monthly expert-led online workshops, receive personalised one-on-one mentorship sessions. Gain tailored insights and guidance, ensuring a holistic approach to your career development in cyber security.
Elite Learner
Dive deep into the cyber world with unlimited access to all EUCA courses. Designed for the passionate self-learner aiming for mastery.Ideal for students looking for comprehensive access to all EUCA courses. Best for self-starters who want to take multiple courses at their own pace.
Elite Insider
Beyond courses, join the inner circle with monthly expert-led workshops. A blend of intensive learning and cutting-edge insights. Perfect for those who wish to not only access all the courses but also benefit from monthly expert-led workshops on special topics. It's a blend of self-learning and interactive sessions.
Elite Mentor
With every feature of the Insider, plus one-on-one mentorship. The ultimate package for those looking for a holistic learning experience. Apart from all courses and monthly workshops, students get personalised one-on-one mentorship sessions. It's a great plan for career development and real-time guidance.
Stay TUNEd - Available to Elite Insider subscribers
Upcoming Workshops
"Decoding DORA: Strengthening Your Digital Resilience": Dive deep into the Digital Operational Resilience Act and its implications for businesses.

"NISD 2 Unveiled: Paving the Path for a Secure Digital Europe": Explore the second Network Information Systems Directive and its role in securing Europe's digital infrastructure.

"GDPR Mastery: Protecting Data, Preserving Trust": A holistic approach to understanding and implementing GDPR standards in the digital age.

"Navigating the NIST CSF: A Blueprint for Cyber Excellence": Break down the NIST Cybersecurity Framework for optimal business implementation.

"Incident Response 101: From Chaos to Control": Learn the ropes of effective incident handling to safeguard your organisation.
"Ransomware Revealed: Strategies to Counter Digital Hostage-Takers": Unpack the world of ransomware and devise strategies to defend against it.

"Charting Cyber Careers: From Novice to CISO": A roadmap to ascending the cybersecurity career ladder, understanding roles, and mastering skill sets.

"Cyber Battles: Distinguishing Cybercrime from Cyberwar": Dive into the differences, stakes, and strategies surrounding both cybercrime and cyber warfare.

"Fincrime Frontlines: Financial Cyber Risks & Remedies": Tackle financial cyber threats and understand mitigation measures to protect your assets.

"Risk & Reward: Crafting a Robust Cyber Risk Management Strategy": Equip yourself with tools and knowledge to assess, address, and alleviate cyber risks in the business domain.
All Workshops Are Delivered via Zoom and Recorded for On Demand Viewing. These Interactive Sessions are Delivered by Subject Matter Experts.
All Elite Insiders Can Suggest Workshop Topics
Frequently Asked Questions
What Are the Monthly "Cyber Security Clinic" Sessions?
Our monthly "cyber security clinic" sessions are personalised one-on-one consultations tailored to the subscriber's individual needs and career trajectory in cybersecurity. Led by seasoned professionals, these sessions offer a platform for students to:Discuss specific cybersecurity challenges they face in their roles or businesses.

Gain insights and recommendations on contemporary cyber threats and best practices.

Receive mentorship on career development in the cybersecurity domain.Deepen their understanding of specific topics like cyber risk management, ransomware, and regulatory acts.

Engage in open dialogues, seeking clarifications or deep dives into particular cyber areas.

These clinics are designed to provide subscribers with bespoke guidance, bridging the gap between general coursework and specific, real-world challenges.
What Does my Subscription to Elite Access Cover
Your subscription grants you tiered access based on your chosen plan:
Elite Learner:
Unlimited access to all EUCA courses.

Elite Insider: Everything in Elite Learner plus monthly expert-led workshops.

Elite Mentorship: Everything in Elite Insider with the addition of monthly one-on-one "cyber security clinic" sessions for tailored mentorship.
Can I Switch or Cancel My Subscription Plan?
Absolutely! You can upgrade or downgrade or cancel your subscription tier as your needs evolve.
How Frequently Does the Course Content Get Updated?
In the rapidly evolving field of cybersecurity, it's crucial to stay updated. We regularly review and update our course content to ensure relevance, with major updates happening at least annually. Subscribers are notified of any significant content changes.
Are Exams Included in My Subscription?
Are There any Prerequisites for Attending the Monthly Workshops in the Elite Insider Plan?
While there are no strict prerequisites, having foundational knowledge in cybersecurity can enhance your workshop experience.

If you're new, we recommend starting with our introductory courses before diving into the workshops. Each workshop often provides a brief overview and any suggested pre-readings.

Note: You Require Zoom to access the sessions
What if I miss a Scheduled "Cyber Security Clinic" Session in the Elite Mentorship Plan?
We understand schedules can be unpredictable. If you can't attend a scheduled clinic session, simply reach out to us at least 24 hours in advance.

We'll work with you to reschedule your session to a more convenient time.
— Connect with us on social
Follow us Online for More Tips